NOMIS
CORE VALUES:
Energize Others

We are "all in" on the Nomis vision
We build constructive working relationships characterized by a high level of acceptance, cooperation, and mutual respect
We elevate others, motivate team members, and create an environment that is a cool place to be

Butter the Edge

We strive for quality and completeness
We focus on results more than actions
We NEVER just check the box – we go above and beyond

Put Customers First

We obsess about our customers
We measure success and view opportunities, challenges, and solutions from the eyes of the customer
We build and maintain customer trust and satisfaction

Execute and Deliver on Promises

We do what you say you will do (Say/Do ratio = 100%)
We have an overdeveloped sense of responsibility
We deliver on promises to peers. If we can't deliver on your promises, we let others know and help to find alternatives

Strive for Growth

We focus on personal and business growth and development
We build for the future by leveraging innovation to tackle big problems
We act rather than wait for others and are constantly learning

Act like an Owner

We identify problems and propose solutions
We do what's right - without compromise
We are adaptable / flexible

Persevere in the Face of Adversity

We appreciate that challenges help us to grow and make us better as a team
There are no impossible problems - only challenges needing a solution
We never, ever give up

One Nomis

We are stronger together
We are focused on the same goals and strive to accomplish the same mission
We celebrate our wins and tackle our challenges!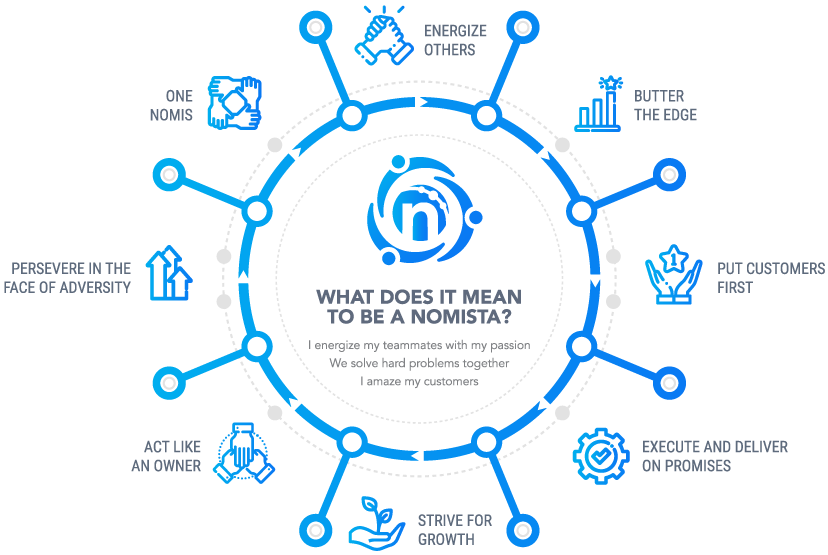 Employee Engagement, Development, and Inclusion
---
Here at Nomis Solutions, we focus on both the individual experience and collective genius. We recognize that each unique role within the organization is vital in creating and delivering value to our clients. We want every team member to experience personal and professional growth, so we invest in each individual employee and support their continued evolution and career development.
Nomis Solutions is an equal opportunity employer, and we proudly stand in support of diversity, inclusion, and acceptance in the workplace.
HEALTH AND WELLNESS
Premium benefits and coverage include medical, dental, vision, and more.
WORK-LIFE BALANCE
We acknowledge and promote a healthy work environment and balance.
PTO/PERSONAL DAYS
Life is busy. Employees are encouraged to enjoy paid and personal time off.
EMPLOYEE RECOGNITION
Monthly raffles recognize and award team-mates who go above and beyond.
COMPETITIVE SALARY
Includes bonus opportunities, 401k, and professional training.
WFH ALLOWANCE
Each new hire is eligible for a credit to purchase home office equipment.